We repair and service most types of garden machinery including chainsaws, blower /vacs, hedgetrimmers, cultivators, strimmers & brushcutters, rotovators, lawnmowers, ride on mowers and compact tractors.
A wide range of parts including oils are kept in stock, some are available on our webshop.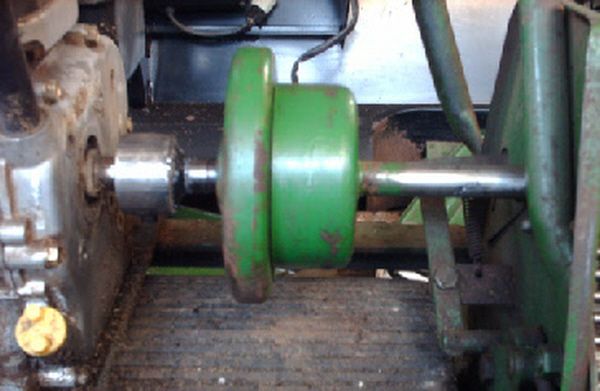 We have made modifications to machinery which would have become obsolete without it, like this atco which had wrecked its multiplate manual clutch, we made modifications to enable this ransommes centrifugal clutch to take its place, the power unit is a 5hp briggs and stratton engine.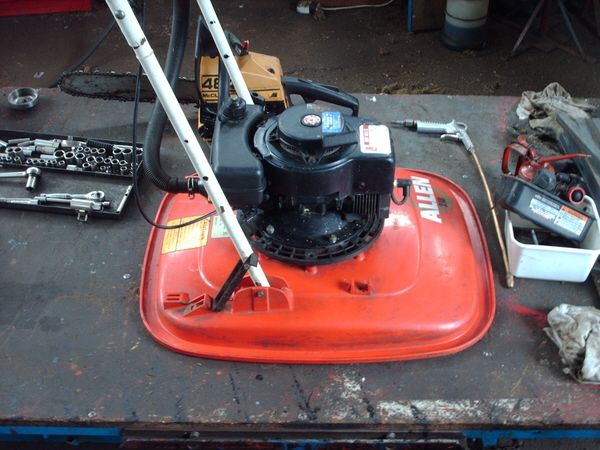 This is an allen 218 hover mower, I remember these being in the showroom when i worked for v.j.rout in 1988, Its an old machine but with regular servicing its usefull life has been prolonged.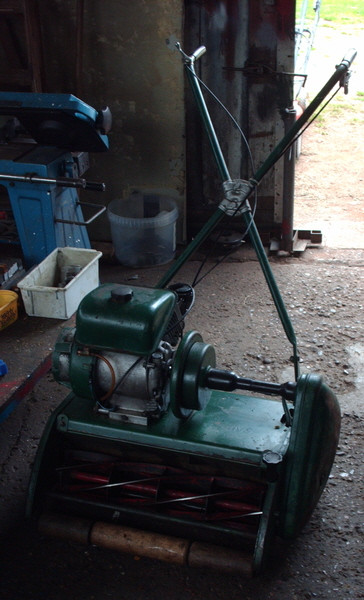 Here is a Ransommes marquis cylinder mower, it is quite an old machine as can be seen by the villiers 4 stroke power unit, it has been serviced and sharpened and is awaiting collection.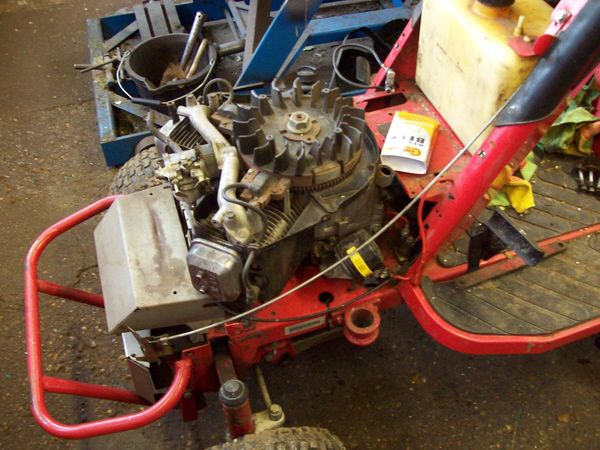 A Countax c600 hydrostatic ride on mower part way through being serviced, we do a thorough service; clean and check ignition and carburation systems, check and adjust valve clearances, changing filters, oil, fuel and air if needed, changing engine oil, checking the functioning of all controls, lubricating steering, top up and recharge the battery, checking all belts and pulleys and replacing any that have deteriorated, cutting decks are removed and have all old grass and debris removed, underside of deck is painted with red oxide primer, blades are sharpened or replaced and belts checked, jackshafts are lubricated if they have provision for it (some budget machines don't!) The whole machine is cleaned, reasembled and test run.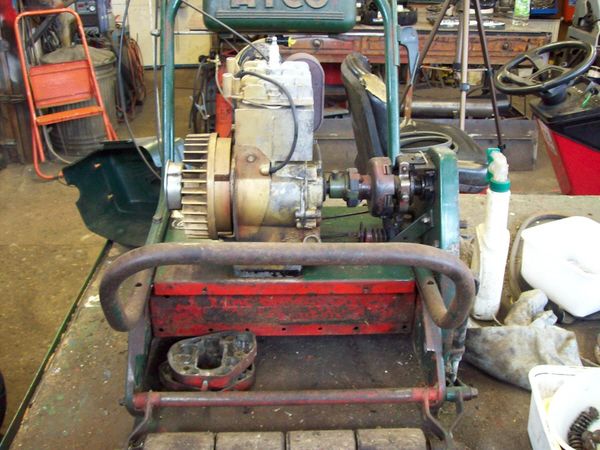 This is an old atco B14 cylinder mower, from memory I think they were given the name commodore, this is in for a service and sharpen, when machines get to this age obtaining parts is getting a little problematic, finding a new bottom blade has caused us a few problems this year.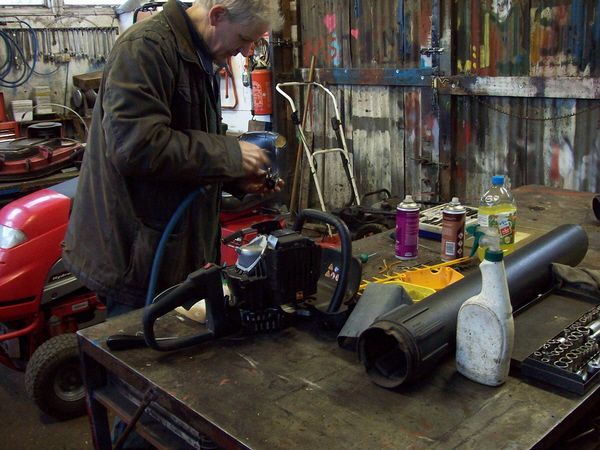 Here is Paul working on a hedgetrimmer, just a repair for a change, to get it running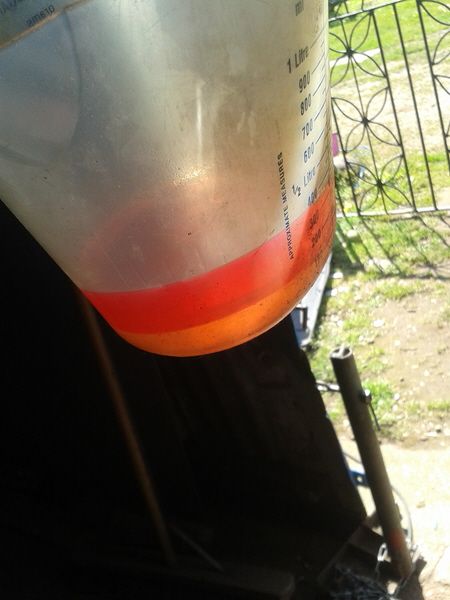 This image shows quite dramatically how much water can be attracted to the new ethanol blended petrol we all now have to use,
75% of all breakdowns we see are now caused by dirt or water in fuel.
This jug full came from a strimmer that wouldn't run, The lighter coloured liquid at the bottom is water!
When petrol deteriorates (in as little as 3 months!) the ethanol will attack diaphrams and seals and the water content will corrode steel and alloy carburettor parts, ultimately requiring a new carburettor often at considerable expense! Using a fine filter funnel when refuelling and adding something like briggs and stratton fuel fit to your petrol will prevent it!
Servicing, repairs and fitting of accessories to cycles are carried out at a fixed labour rate plus parts including puncture repairs.
A collection and delivery service is offered to the local area for cycles and garden machinery.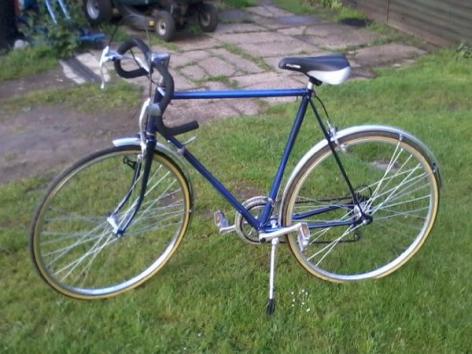 We carry out repairs and servicing to most cycles, puncture repairs and fitting of spares and accessories. Most cycle repairs are carried out on a fixed price basis.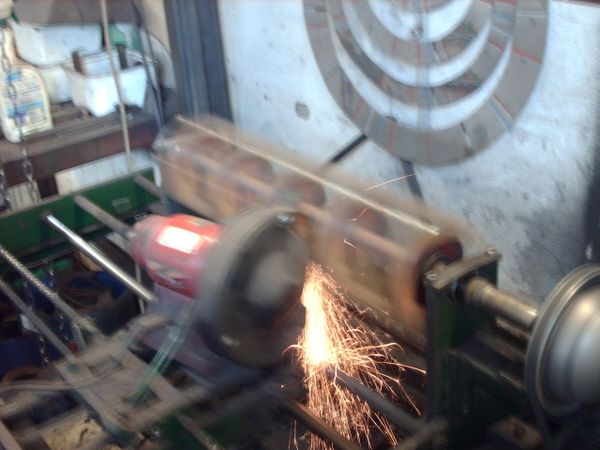 Sharpening - We can sharpen cylinder mowers up to 24 inches wide using our cylinder grinder which we built ourselves, or for larger cylinders we out source the sharpening to a company with a grinder which can handle up to 36" cylinders.
We sharpen chainsaw saw chains, rotary mower blades, garden shears, secateurs , loppers and most garden hand tools.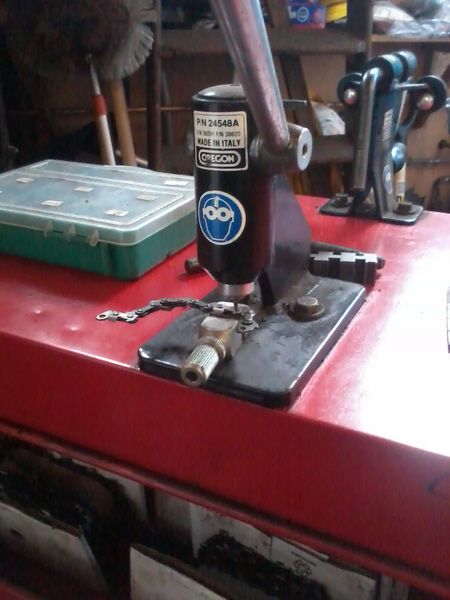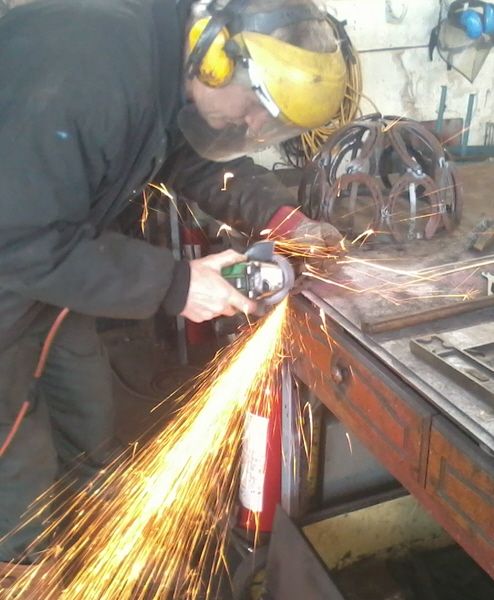 We can make replacement saw chains as required to personal callers and by mail order, we can replace broken cutters or damaged links in an existing chain using our breaker and rivet spinner.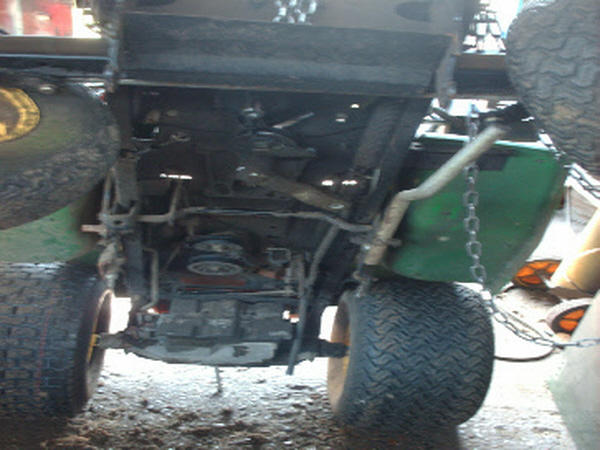 This is a John Deere ride on mower with its cutting deck removed and the front lifted up with a chain block, its had its drive belt removed prior to fitting a new one.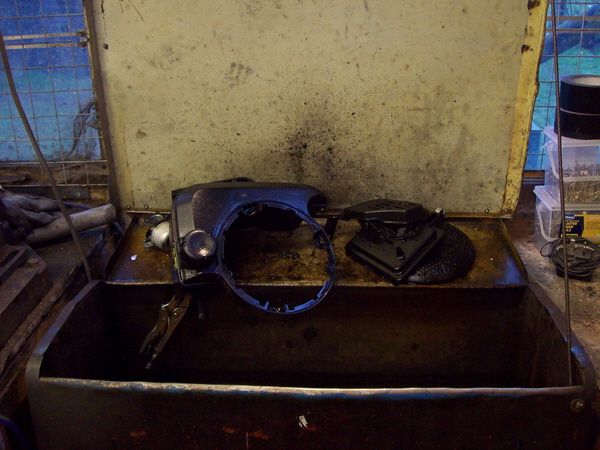 Some parts draining in our degreasing tank, sometimes we have to resort to cleaning parts in the tank if they are particularly oily!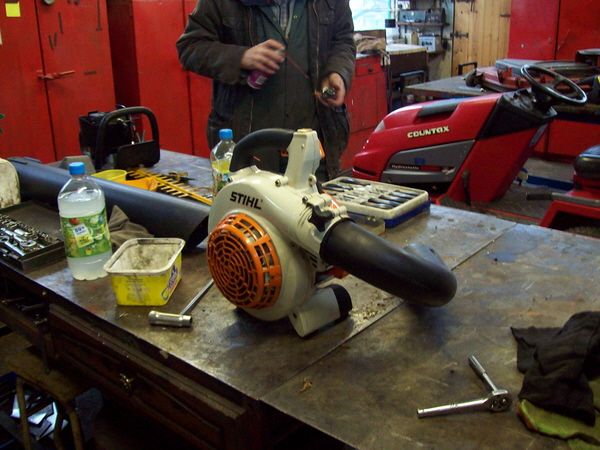 A Stihl Leaf Blower which has just been serviced and completed its test run, now just have to refit the suction pipe and its ready to go back to its owner!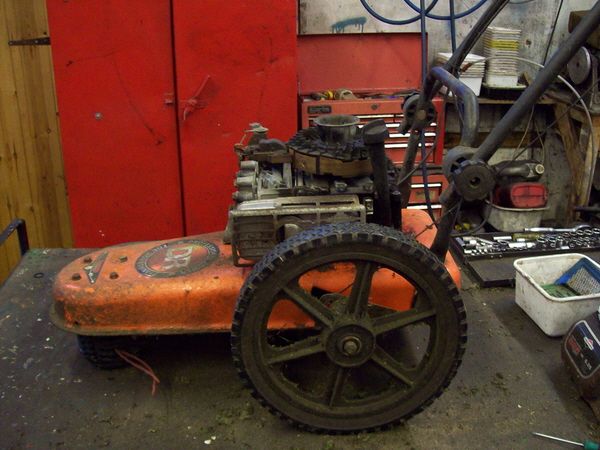 These are terrific little machines, The D.R Trimmer / mower, 5 or 6 hp engine and 4mm nylon line, Another different type of machine that we service and repair, this one is being serviced.