We started growing Christmas trees on this site in 1999 with 50 Norway Spruce transplants, we continued to plant 50 trees each year to slowly and affordably fill up part of the field, to begin with we planted our trees at nearly 11ft between rows! At the time I had a tractor and finger bar mower and 11ft allowed it to be used between the rows to cut the grass.
The purchase of a topper resulted in us being able to close the rows up a bit by planting extra rows between the existing ones, as you can see in the picture below.

Here you can see a row of 'new' nordmann fir planted between wider spaced rows of Norway Spruce.

The picture below is a freshly planted Scotch Pine bare rooted transplant, we order these in for planting during January when the trees should be dormant and less likely to be shocked by being uprooted and replanted.
It has had a wood chip mulch put around it as an experiment to see if this waste product from our willow firewood trees may be useful in weed control.

Another freshly planted tree with the wood chip mulch around it, this one is a nordman fir.

After about a year the young Norway spruce transplants look like this one, during these first few years we have to keep the grass and weeds down from round the young trees to cut down on competition and also to try to maintain a good shape to the tree.

Around 2 or 3 years later with regular weeding and a bit of gentle shearing to keep the tree in a good shape the trees get to this stage at a height of about 2 feet..
For the next few years we continue with the weed control and yearly shearing to keep the conical shape and remove any extra leaders until the trees reach a sellable size, like this one at about 5ft.

Some of the bare rooted transplants were planted directly into large plant pots, these are very labour intensive especially in dry weather when they need watering every day, they still need shearing to retain shape just like the field grown trees. The extra care they require is why we charge significantly more for a pot grown tree. These are not the same as a potted tree, a potted tree has been dug up and put in a pot for christmas!

These were the pot grown trees we had for sale in 2015, they have been moved to the front of the workshop and labelled up for sale.

This tree gives you good indication to the quality of our trees, it was cut and delivered to a local customer and as it was too big and heavy to load into the truck, we had to take it on our 4 wheel trailer that we usually use for transporting ride on lawnmowers and compact tractors.

Last year (2016) was our first for selling wreaths, they are all hand made on a wire former using all natural materials.
They were available in two sizes and proved extremely popular, Mandy had to make extra stock on at least one occasion!
This year she is going to try to make the formers from willow which is a by product of our firewood production for our own heating so they will be 100% natural except for the binding wire.

This our self built netting machine, we made it especially large in order to take our fuller trees, it works just as well on the narrow ones too, it proved very popular during the 2016 season.
we are working on a tree shaker machine to shake off any loose needles or leaves from the trees before netting them for customers, similar to the one below.
We hope to have this in operation for the 2017 season.

We sell our trees direct to the public, when open from early November for tagging, we allow customers to come and walk around the field to choose their tree while it is still growing, customers can do this well before the tree is wanted and TAG it, returning to either have us cut or dig it, or cut or dig it themselves, we have had many families turn up and make an event of picking and harvesting their own tree.
We do not cut or dig any trees until the day they are being taken or delivered, about as fresh as its possible to get!

The pictures above are of our 'top field' which was the first field we planted up with Norway Spruce,it now contains a lot of Nordman firs which are growing nicely and will ready for sale in a few more years.

The pictures above are of our 'bottom field' this field holds many large mature Norway Spruce along with many of our 2017 transplants.
When the selling season is over we have to remove all the stumps left behind from the cut trees sold! We could leave them in the ground to decay naturally, but I believe this is asking for trouble as we will be planting more trees around them.
So this is our delivery of new stock for 2017, 425 new trees, 100 Norway spruce, 100 Nordmann to add to the 3 year olds already growing, 100 Fraser Fir, 100 Scotch pine and 25 Blue spruce.
Here you can see Paul planting one of the new Nordman Fir transplants in the place where up to a few weeks ago a Norway Spruce was growing before being sold and making someones Christmas tree!
Another new feature for 2017 are these row numbering markers, they are to help us to keep track of how many trees of a particular size we have, it will also be much easier for customers who tag their trees to tell us its in row number x.

This is an old picture of a Scotch pine we grew by accident several years ago, it got much larger than this and we eventually had to cut it down. I am hoping the new transplants we planted will one day be as good as this.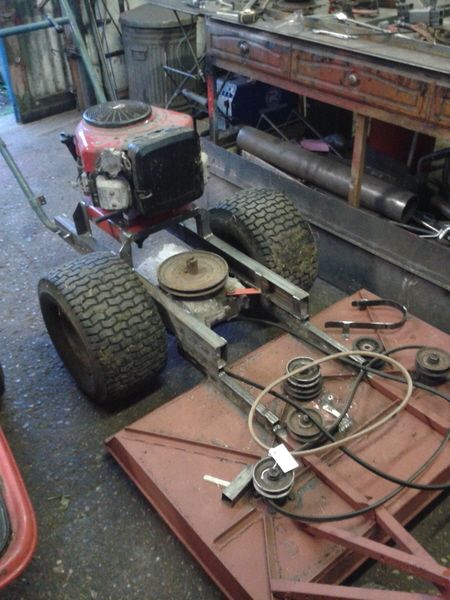 This is the walk behind mower we use to cut the grass between the trees, this picture was taken during construction, it now has guards and has been painted as in this picture.